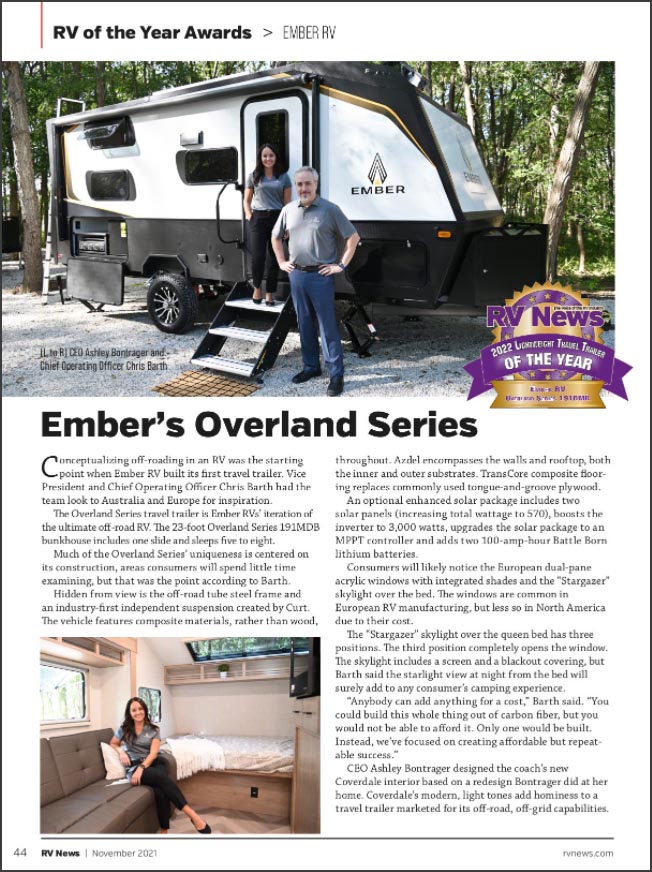 Ember RV recognized Ridge Corporation for TransCore lightweight composite flooring a traditional wood flooring replacement which helped them achieved the '2022 Lightweight Travel Trailer of the Year Award'.
Ridge Corporation, an Ohio based company, uses advanced materials to produce engineered solutions for multiple industries. Using a wide range of high-performance materials, coupled with proprietary manufacturing techniques, Ridge delivers a wide variety of design solutions that not only meet, but often exceed, customers' expectations. Ridge Corporation, helping others reach new heights by advancing composite solutions.
For more information, please contact:
John Maynie, Senior Director of Structural Composites and Business Development via email: John.Maynie@RidgeCorp.com Cell: 252.377.7735
Zach Rittler, Sales & Marketing Manager for Ridge Corporation via email: Zach.Rittler@RidgeCorp.com or via phone: 614.421.7434.
See original article RV News at: http://www.mirabelsmagazinecentral.com/DigitalEdition/index.html?id=ab1d36be-92f7-48cd-8e52-7e272d099cc8&pn=44&pv=s