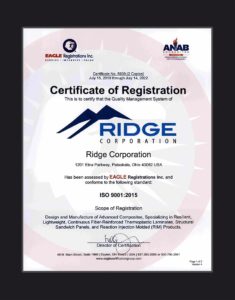 PATASKALA, Ohio July 26, 2019 – Ridge Corporation, leading manufacturer and innovator of advanced composites, has achieved ISO 9001:2015 certification. This achievement confirms Ridge Corporation's commitment to quality, customer satisfaction, and continuous improvement.
ISO 9001:2015 is the most recent adaptation of the well renowned global standard that provides the framework for a company-wide Quality Management System (QMS). The scope of the ISO 9001:2015 registration at Ridge covers the design and manufacture of resilient, lightweight, continuous fiber-reinforced thermoplastic laminates, aerodynamic devices, structural sandwich panels, and reaction injection molded (RIM) parts at both Ridge locations in Pataskala and Frazeysburg, Ohio. Eagle Registrations Inc, an ANAB accredited organization, provided the third-party audit and certification.
Learn more about Ridge Corporation at www.RidgeCorp.com.
About Ridge Corporation
Ridge Corporation, an Ohio based company, uses advanced materials to produce engineered solutions for multiple industries including all modes of freight transport. Using high performance materials, coupled with proprietary manufacturing techniques, Ridge delivers a wide variety of design solutions that not only meet, but often exceed, customers' expectations. Ridge Corporation, helping others reach new heights by advancing composite solutions.
For more information please contact Zach Rittler, Sales & Marketing Manager for Ridge Corporation via email: Zach.Rittler@RidgeCorp.com or via phone: 614.421.7434.